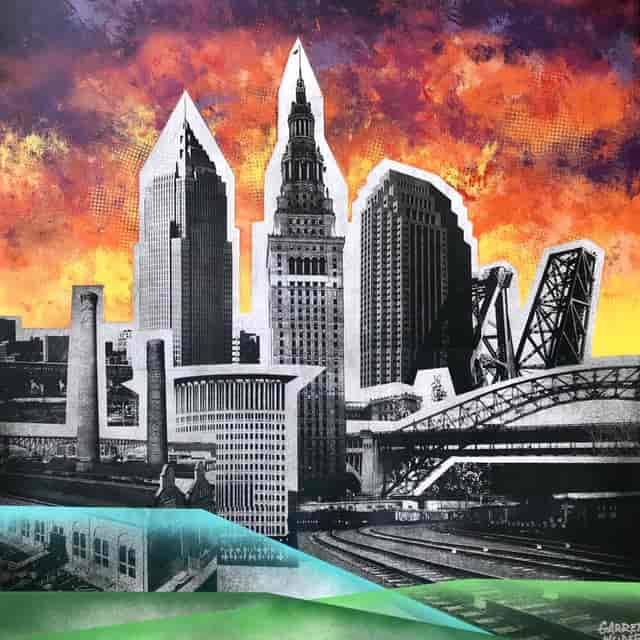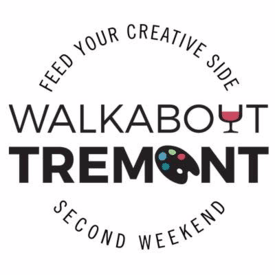 Walkabout Tremont
SECOND FRIDAY OF EVERY MONTH Cover Photo by artist Garrett Weider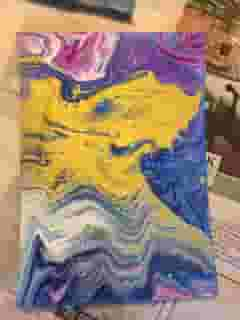 January Artist - Kylie Earl
Kylie Earl wants to give back, once a Wish Kid from A Special Wish Cleveland, she will be selling her artwork to help raise money for ASWC.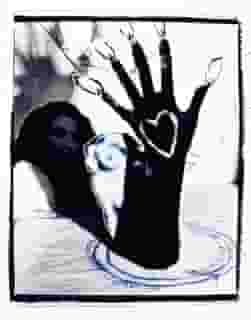 February Artist - Laura D'Alessandro
"As Above, So Below. As Within, So Without. As the Universe, So the Soul." Hermes Trismegistus After going through treatment for a life threatening illness, I was forced to reflect upon and re-evaluate my life and my artwork. Surely, there had to be a "reason" for surviving cancer—it could not have been for nothing, could it?, I wondered. I could see the lessons in the experience for myself, and then I began to see lessons in everything—all my days and my nights were full of symbols, synchronicities and messages to decode. Of course, what we believe about ourselves and our lives translates into our outer experience of the world. Do we ever stop to question what we believe and why? How many labels/stereotypes have other people put onto us, that we agree to? Once we strip these away, and also realize that our physical bodies are constantly changing and not permanent, then could we not see what lies beyond—how we are all connected in community—connected in energy—and that we can create our own magic. We all have stardust within us. My new photo constructions explore these themes—physical impermanence verse interconnectedness to all; the magic and mystery of dreams; as well as the synchronistic details within our lives as we evolve and change constantly. I have continued to work within my photo construction format—small dioramas, or "stage sets," where my characters act out this inner/outer dialog. I have also been creating work around the idea of the shadow self—the darkness verses the light, that we all have within. I have been using automatic writing/opposite-hand drawing to tap into my subconsciousness for clues. I layer organic materials onto my characters to represent the layers we accumulate—using every day substances such as mud, wine, ash, gold dust…we are everything and everything is us.Laura D'Alessandro is a Cleveland-born fine art photographer, writer, and educator. Upon completion of her BFA at the Cleveland Institute of Art, she earned her MFA at The School of Visual Arts NYC. Laura taught art and art history at New Orleans' Nunez College and Photo Safari workshops in the French Quarter. Laura's photography is included in numerous private and museum/institutional collections in Cleveland and throughout the country. Currently, she is one of the directors of the Cleveland Photo Fest, established in 2019.
April Artist - No Numbers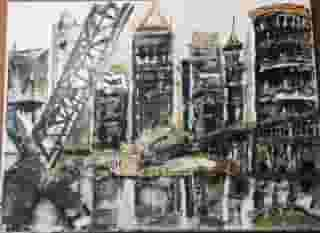 June Artist - Barb Everett
"I call myself "the accidental artist" because I started painting after retirement to appease my best friend by taking her art class at the senior center, and to have a steady lunch date. I had not painted at all, but it has changed my life and my outlook on life.

My style and media choice seems to be constantly evolving, but my love of color , texture, shape, and line remain consistent. I will gladly forego realism for color or line. In fact, if I start with a photo reference, I immediately exaggerate the artistic elements and then dispose of the photo as quickly as possible. My most successful medium is oil applied with palette knives ,but every couple paintings, I get bored and do a totally different medium or technique.

I owe whatever success I have had to my friends and family especially my husband, for constant support and encouragement even as I usurp more and more of our house and budget with my artistic endeavor."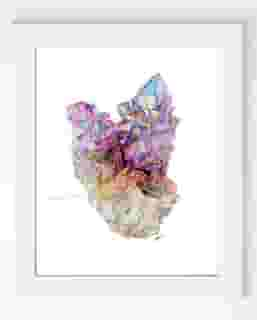 July Artist - Christy Mihelich
I was born and raised in Cleveland, Ohio, only blocks away from Downtown. The area in which I grew up was rich in ethnicity, culture & beautiful art. I lived in Cleveland with my family through my early 20's. Growing up in the inner city was tough but a huge blessing at the same time as art was everywhere. We lived near such places as the Cleveland Museum of Art, the Natural History Museum, the Cleveland Institute of Music, the Theatre District (Playhouse Square and the State Theatre)! Living five minutes from Downtown was awesome! The Flats was our backyard and when it came time for the Air Show, we only needed to climb the nearest rooftop to get a bird's eye view of the Blue Angels soaring by. My love for art started at a very young age, was nurtured by my loving parents and taught by fine art instructors. Art also surrounds me through a Graphic Design career of 28 years at one of our nation's largest Insurance companies.

Soon after I moved out of Cleveland, I married my Husband. My art went on hiatus while we raised our two children but emerged about 3 years ago. My passion for art is stronger than ever and continues with the support of my wonderful Husband & two amazing children. The four of us now live in a suburb just outside of the Downtown area, so we've stayed close to our roots. 

Since I've started my new art business, a few of my pieces have since been curated for display, I've donated pieces for causes dear to me, such as causes that bring awareness to addiction and mental illness. I've donated my art services to my local church/parish community and I've been a contributing art vendor in local events. My favorite mediums to date are Gouache, Watercolor, Acrylic & Colored Pencil. My offerings are mainly painted originals, prints and now starting to focus on creating various paper products. 

It is my hope that my art inspires & touches people in a very special & unique way. I love to create and pay it forward when I can. Thank you for visiting and hope to see you back soon!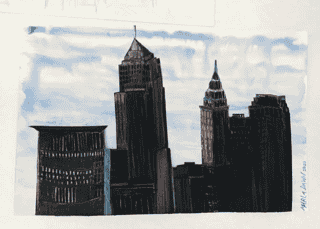 August Artist - Marla Kassoff
Marla Dawn Kassoff is a Cleveland Artist. She paints with vibrant colors and combines mixed media, including low relief, into her artwork. She was educated at CSU, The Cleveland Institute of Art, and she holds a master's degree in Art Education from CWRU. Currently, Ms. Kassoff works as an Art Teacher K-8 at Northeast College Preparatory School, located in Tremont, Ohio. She is also a freelance artist who does work on commission.
October Artist - Photo Fest with Laura D'Alessandro